EMC Probes
The RadiSense - Series of EMC Field Probes
Robust - Reliable - Small - Battery Free
With the aim to carry out accurate field strength measurements, the E-field probe must be small compared to the wavelength of the measured signal. If the size of the E-field probe is too great it will cause resonances at higher frequencies, which counts for a significant share in the total measurement uncertainty.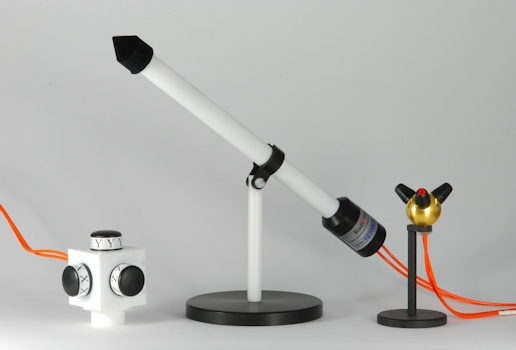 A small electric field probe is also essential for measurements in a uniform field of an anechoic chamber. The larger the probe is that is used in these measurements, the less useful measurement resolution.
It is mainly for measurements in (G) TEM cells the size of the probe determines the reliability of the measurements. If compact cells are used, one EMC probe is greater than 100 mm high in relation to the homogeneous field in the cell and relative major errors will occur.
Reliable
So, in order to obtain reliable and precise measurement results, should the size of the EMC probe be as small as possible.
Small
With the introduction of the field strength RadiSense® sensors in 1999 has ended all size related measurement problems. With a measurement volume of 75 cm3 and 1 cm3 and robust enclosures provide the E field probes for reliable measurements. By comparison, the current probes perform measurements with a volume ranging from 300 cm3 and 1000 cm3, which creates fundamental measurement errors.
Battery free
Another disadvantage of the standard e field probe is that they are fed by a battery. It is understandable that batteries are used. Galvanic wires influence the be measured E field. But batteries are empty and often depleted when needed. For example, a battery-powered probe is useless for all night testing. Unlike other probes, the field strength sensor RadiSense® is powered by a high power LASER, whose light is transmitted to the probe by a fiber optic cable and feeds the the low-noise amplifier and a single microprocessor chip, reads the antennas and passes the measured values to a PC through a second fiber cable.
Software Support
The E field strength RadiSense® sensors are supported by the RadiMation®, automated EMC measurement software. The RadiMation® control software is included with the system for stand-alone use. The EMC probe can most commercially available EMC software driven by a Holaday® 4422 compatible instruction set.
Specifications RadiSense®
Technical specifications
Performance

RSS1004A

RSS1006A

RSS1018A

Measuring range

1 (0,25)* - 1.000 V/m

4.000V/m**

0,5 - 600 V/m

1 - 600 V/m

Overload indicator on

> 1.000 V/m

> 1.000 V/m

> 1.000 V/m

Maximum input level

1.500 V/m

1.500 V/m

1.500 V/m

Calibrated frequency range

9 kHz (4 MHz)* - 4 GHz

10 MHz - 6 GHz

30 MHz - 18 GHz

Calibrated frequency

+/- 1,5 dB

NA

NA

+/- 3,0 dB

+/- 1,5 dB

+ 1,5 dB to - 4,0 dB

+/- 1,5 dB

+/- 3,0 dB

NA

NA

+ 1,5 dB to - 4,0 dB

Linearity

+/- 0,5 dB +/- 0,5 V/m

+/- 0,5 dB +/- 0,5 V/m

+/- 0,5 dB +/- 0,5 V/m

Isotropy @ 1GHz

< +/- 0,25 dB

< +/- 0,5 dB

<+/- 1,5 dB

Measuring speed (X,Y, Z & ETot)

5 samples/s
(optional 60 samples/s)*

60 samples/s

60 samples/s

Shape

Cubical

Spherical

Stalk

Electrical measuring volume

74 cm3

40 x 40 x 40 mm

52 cm3

25 mm diameter

1 cm3

280 mm stalk length
| | |
| --- | --- |
| Operating environment | |
| Temperature range | 15º C - 35º C |
| Relative moisture | 10% - 90% (not condensing) |
| | |
| --- | --- |
| Models & Dimensions | |
| Models | Plug-in card for RadiCentre® |
| Dimensions in mm | 1 slot |
| | |
| --- | --- |
| Power | |
| Optical LASER power | Max. 0.5 Watt at the aperture of 808nm |
Connectors & Cables

F.O. connector + cables LASER

FC/PC
200/230µm fibre, 1.5m fixed to sensor and 10m extension with couplings***

Fibre optic connector + cables data

FSMA
200/230µm fibre, 1.5m fixed to sensor and 10m extension with couplings***
Safety

Safety measures

Key Switch (RadiCentre)
Remote interlock system (RadiCentre)
LED indications for LASER ON
Audible warning signals
Redundant closed loop safety system
Beam shutter with integrated interlock

LASER switch on/off time

approx. 70 ms / < 5 ms
Resellers
Click here for a complete list of resellers.
Brochures
Click on the links below for pdf leaflets of the different RadiSense models.
RadiSense 18 GHz E-field probe
For more information about RadiSense® or one of the other products of DARE!! Instruments please fill out our contact form below.