DARE!! Consultancy measures for ECS and Honda
ECS Electronics' "Trailer Unit"

The Automotive industry puts high EMC demands on electronic systems and components which are used in a vehicle. To prevent unwanted influences from other electronic systems, all electronic systems need to be comprehensively tested on EMC aspects. Not only emission measurements are performed, the product is also exposed to different interference signals that can appear in a vehicle.
Automotive directive

For use in a vehicle, all electronic systems must meet the EMC requirements which are set in the Automotive directive 2004/104/EG. This directive requires for example that a product must resist to a radiation field with a level of 30 V/m in a frequency area from 200 MHz to 2 GHz. This contains possible interferences by single/dual band GSM signals. Besides this the product needs to be resistant to various pulsed interference signals which are present in a vehicle from 12 VDC or 24 VDC power.

Testing according to manufacturer requirements

Electronic products or systems that are being delivered to a vehicle manufacturer, should generally be tested on basis of the demands of the relevant manufacturer.
Almost all known car manufacturers (GM, Ford, Daimler-Chrysler, Renault and Honda) have determined their own specific requirements.
As a supplier of electronic products or systems one must demonstrate that the product meets these requirements, based on a pre-approved test plan.

ECS trailer unit for Honda

ECS Electronics B.V. from Breda develops and manufactures in cooperation with the automobile manufacturer tow bar wiring kits for the newest car models. These so called 'trailer units' need to be tested comprehensively not only on EMC aspects, but also on climatic and mechanical conditions. DARE!! Consultancy takes care of the complete testing program, which includes 40 testing days, in which the trailer unit is being tested on all possible aspects. All EMC and climatic tests are being performed in Woerden while the mechanic tests are externally outsourced.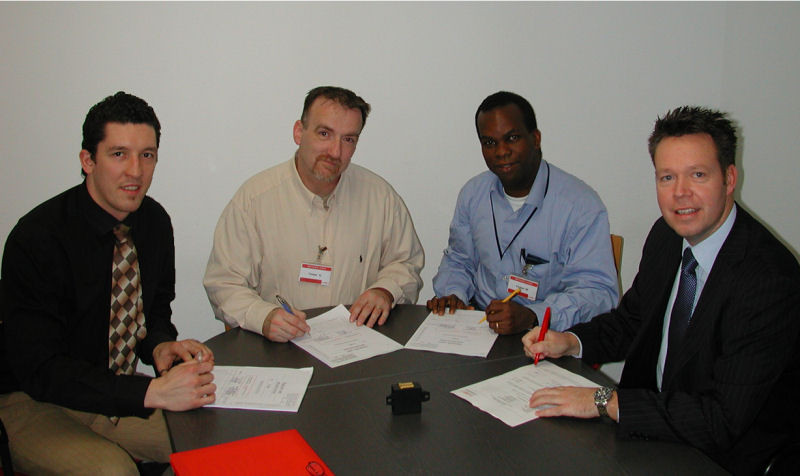 Photo from left to right.:

Mr. Himschoot (Honda Access Europe N.V.), Mr. Tonnet and Albertoe (ECS Electronics B.V.) and Mr. Vom Hofe (DARE!! Consultancy)
Questions?

Do you have questions or do you want to know what DARE!! Consultancy could mean for you when it comes to CE Marking, please contact Edwin vom Hofe (edho@dare.nl) for more information.

More references? See here how other companies use DARE!! products and services.