DARE!! helps you show the way!
Traffic guidance car test at DARE!!
EBO van Weel from Rhoon has specialized in building trailers, mobile traffic guidance and truck-bodies in every size and type. This includes trailers in open and closed execution from 750kg to 20.000kg, truck bodyworks suitable for many forms of transport and mobile traffic guidance, lamppost cars, car drips with LED display and arrow or text display.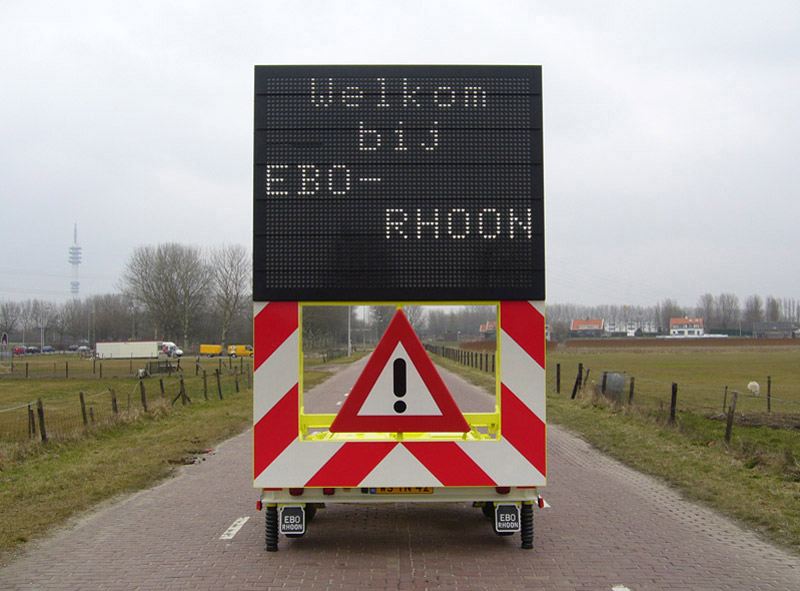 Electronics is (nearly) everywhere

The evolution of electronic components and systems is going very fast, also in the world of traffic guidance cars. An electronic adjustable and configurable car offers more practical advantages compared to traditional cars with steady arrows or boards. This way it's fairly easy to adjust the traffic guidance to the need on the road. They can also provide clearer and faster information. But with applying electronics there is something else you have to deal with, Electromagnetic Compatibility (EMC).

What regulations apply?

Knowing the fact that traffic guidance cars drive on the public roads and are equipped with electronics, they fall under the European regulations for vehicles 72/245/EEC and 2004/104/EG. Based on this directive, EMC tests need to be performed to determine if the electronics don't generate too much emission. The electronics need to be sufficiently immune to interference (electromagnetic radiation) from its surroundings. It is not intended that electronics from the information screen can be influenced by, for example, GSM radiation coming from passing cars. This can cause dangerous situations.

EMC tests and type approval of the traffic guidance car

The traffic guidance car from EBO van Weel has been EMC tested in the large semi anechoic room which is situated at the office of DARE!! Consultancy in Woerden. This anechoic room has the dimensions of 11m (length) x 7.5m (width) x 6m (height) and is with its big fully automatic door of 4.3m (height) x 3m (width) suited to test the traffic guidance car in a conditioned EMC environment. Because of the seize of the car a 4-point calibration is performed in the anechoic room to prepare for the EMC tests. The EMC tests have been performed in three operational modes: the battery mode, the loading mode and the generator mode. During the generator mode tests the exhaust gasses were discharged through an extraction system in the anechoic room. Besides EMC tests DARE!! Consultancy is also assigned to perform type approval for the RDW. Based on our testing report and a RDW type examination request the e-marking as well as type approval certificate is issued by the RDW. After this, the product can be used within the borders of Europe.

By mr. B. van Weel:

To make sure the informationcar got approval, we also had to perform an EMC test. DARE!! was the most appropriate party. We used the large anechoic room. We, as EBO, had no idea what to expect. To determine how our car would respond, we decided to perform a quick scan first. The measurement results were encouraging. A little while after that, we had the final scan performed too, with success. Over the whole process there was one issue that has been successfully solved by the engineers of DARE!!. By achieving this test and all the other tests, from April EBO van Weel B.V. can say that they can deliver a RDW approved informationcar.
For more information about EBO van Weel B.V. please visit ebovanweel.com
Under accreditation = proven quality

DARE!! Consultancy is RvA (L279) accredited for EMC Automotive measurements.
We are also designated by the Rijksdienst voor Wegverkeer (RDW) as Technical Service for the Automotive directive and performing type approvals (e-/E-marking). Tests that are performed under accreditation offer the customer proven quality assurance and expertise.

Questions?

Do you have questions or do you want to know what DARE!! Consultancy could mean for you when it comes to CE Marking? Please contact Edwin vom Hofe (edho@dare.nl) for more information.

More references? See here how other companies use DARE!! products and services.