Route
Route to DARE!!
DARE!! is located centrally in The Netherlands, in Woerden. The office is easily accessible, both by car and by public transport.
By car
From either direction on the A12 motorway take the exit to Woerden. Once at the end of the ramp turn right in the direction of Woerden. Stay on this two-lane road to the end, at which point you reach a roundabout (traffic circle). Follow around and exit left (nine o'clock). After approximately 200 meters (600 ft.) you reach another roundabout. Go straight on (twelve o'clock). Take the first left, toward the "Middelland" industrial area. Enter the first street on your right, as it is the Vijzelmolenlaan. DARE!! is right in front of you. Drive around the building to the front, at which point you will find the parking spaces available on our premises. You can register at our reception.
Click here for the quickest route from your current position to DARE!!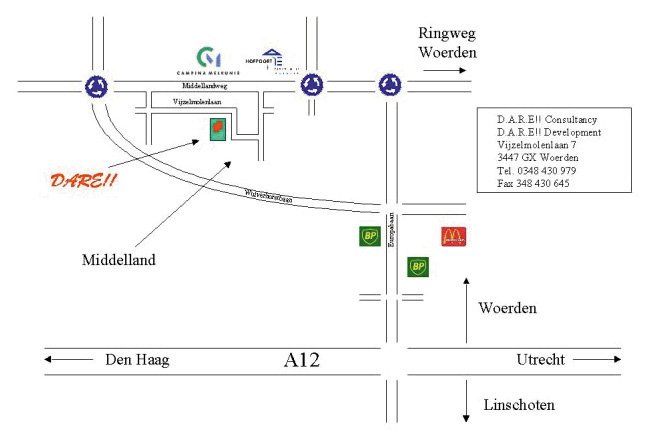 By train
DARE!! is easily accessible by train. The walk from the station to our facilities is approximately 10 minutes. You can take the train from Utrecht, The Hague or Rotterdam to station Woerden. At the station take exit south and keep right (road slopes upward) along the railway track. First road to your left (road slopes down). Follow this road (curve to the left) till the roundabout take a right here, first road left, next road right and you will find the DARE!! facilities right in front of you. You can register at our reception.